Valenshy is an earth pony with a few cameos in the G3 movies.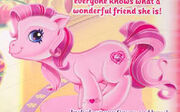 VALENSHY is always doing nice things for her friends... but she's so shy, she never lets them know! It's no secret though - everyone knows what a wonderful friend she is!  - Valenshy's backcard story from the back of her toy's box.
Appearance
Edit
Valenshy is pink with pink and purple hair. She first appears in A Very Minty Christmas, generally in the background until Minty's "Nothin' Says Christmas Like a Pair of Socks" where she's seen with others in a circle.
In the Princess Promenade, she's among the ponies in a crowd.
Merchandise
Edit
Valenshy was released as part of the Friendship Ball Jewel Ponies, whom have a jewel on top of their cutie mark.
Ad blocker interference detected!
Wikia is a free-to-use site that makes money from advertising. We have a modified experience for viewers using ad blockers

Wikia is not accessible if you've made further modifications. Remove the custom ad blocker rule(s) and the page will load as expected.