Winter Snow is a pony from the G3 franchise.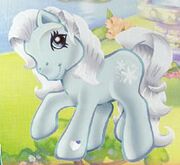 All winter long, you can be sure to find WINTER SNOW in her favorite place - the skating pond. After she practices her fancy flips and jumps, she gives lessons to the younger ponies, so they can put on an ice show to their friends. - Winter Snow's backcard story from the UK MLP site.
Appearance
Edit
Winter Snow is pale green with white hair. Her eyes are blue and her cutie mark is two white snowflakes. She nad no on-screen appearances.
Merchandise
Edit
Winter Snow's merchandise is quite limited, especially since she was not released in the US, except on non-figurine merchandise