Wishawhirl is a pony from the G3 franchise.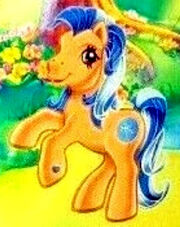 Appearance
Edit
Wishawhirl is orange with dark blue and white hair. Her eyes are purple and her cutie mark is two pinwheels and spirals. She had no on-screen appearances.
Merchandise
Edit
Wishawhirl was included in the 2004 Spring Basket with Bubblecup and Garden Glade.